Andy Thomis announced the winners during a lunch at Wasing Park on 5th November and the awards were presented by the Chairman of Cohort plc, Nick Prest.
Awards for 2019 were presented to the following individuals:
GOLD AWARD
Chess Dynamics Gatwick AUDS Team – Phil Passey, Chris Henderson, Tim Carter, Paul Comper, Adam Wicks, Ben Moffatt (pictured below with Nick Prest).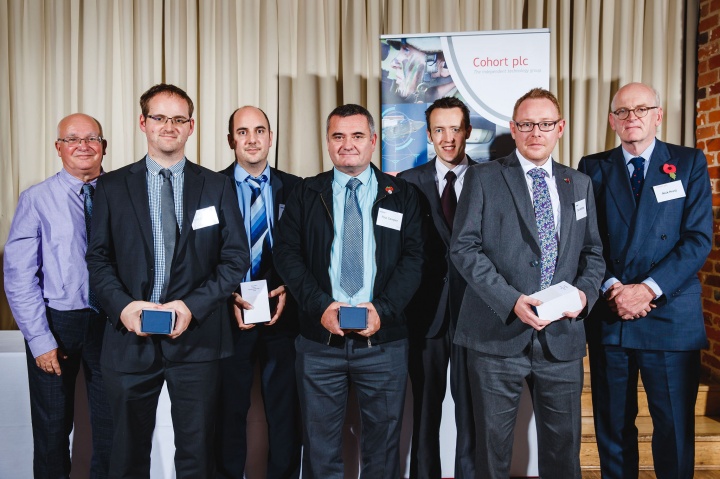 Andy commented: "I mentioned that the field was very strong for these awards this year. With Silver and Bronze award winners of the quality you have seen, you will realise that this year's Gold award is very special indeed. But equally, I don't think you will be surprised by it.
On 21 December last year, at 10.00am, Gatwick Airport called Chess Dynamics and asked them to provide their Counter-UAV system, AUDS. Chess had spoken to Gatwick several times about the system, but discussions had not progressed. After 1,000 flights had been diverted or cancelled, and 140,000 passengers delayed, they decided it was time to review their decision.
Within hours of the call, Chess team members had volunteered to give up their Christmas holidays and immediately set to delivering and installing the system. It was on site within hours and operational the next day.
Over the following weeks the system was tuned to optimise its performance in the airport environment and new capabilities were added. It was tested many times with drone flights arranged by the police. The team was able to demonstrate that the system met the needs of Gatwick – and it remains in service with them to this day.
Of course, AUDS has been used much more widely. I visited Chess's customer in the US recently and was reminded that the day it arrived in theatre became known as the day that the drones stopped. But the Gatwick events could not have provided a better demonstration of Chess and the Group's innovation, responsiveness and agility. It also shows rather well how we play our part, how we are results driven, and how we believe in independent thinking.
There were many who contributed to Chess's success at Gatwick and I value all of their contribution. The direct team, though, was Ben Moffatt, Tim Carter, Chris Henderson, Adam Wicks, Mark Faux, Paul Comper and Phil Passey."
Silver Awards
EID ICC-401 Development Team – Ricardo Nunes, Armando Pinto, Celso Almeida, Luis Oliveira, Bento Rações
MCL – Individual Award – Shane Campbell
MASS – Individual Award – Jack Stark
SEA – KDS Development Team – Gavin Whitelaw, Steve Pinfold, Matt Howell, Chris Purry, Matt Clark, Dave Hutchings, Chris Tucker, James Stevens
Bronze Awards
SEA – ANSSA Team – Alex Niciecki, Steve Proctor, Nathan Hammant, Steve Rowtcliff
SEA – Weight Enforcement Integration for TfL – Harvinder Porter, James Begley, Jonathan Woolcock, Jason Swan
Chess / Vison4ce – Individual Award – Jamie Whitham
MASS – EU OHQ Team, Training Support Group – Graham Nicholson, Dave Gibbard, Steve Lummis, Chris Catterall
MCL – Individual Award – Luke Silk
Values Awards
We believe in playing our part – MASS Recruitment Team – Simon Green, Sarah Bundy, Michelle Lynch, Karen Williams
We believe in being results driven – Individual Award – Colin Eastman
We believe in independent thinking – MASS APPTES Support Team – Joss Cope, James Howe, Simon Roberts
Special Award
MASS – Bill Johnson
Congratulations to all winners of the 2019 Cohort Business Excellence Awards.