Volunteering Initiatives
JUNE 29, 2023
As part of Volunteer week and Wellbeing week, almost 60 staff across our three sites spent time helping to improve our local communities by taking part in group volunteering initiatives.
For a second year, Chess Horsham visited Warnham Nature Reserve. Running in conjunction with the Countryside Warden Team at Horsham District Council, the team helped remove Himalayan Balsam, an invasive species found along riversides. Himalayan Balsam outcompetes native plants and reduces wildlife diversity. The most effective method of removal and to control its spread is by hand pulling.
Chess Plymouth worked together with Clean Our Patch. Clean Our Patch is an independent Community Interest Company that works with councils to improve rural and urban areas for the Plymouth community.
Chess Wokingham volunteered at Dinton Pastures Country Park, cleaning up litter. Dinton Pastures Country Park has just over 335 acres. The Park is open daily throughout the year. It offers a variety of habitats including 7 lakes, 2 rivers, and meadows.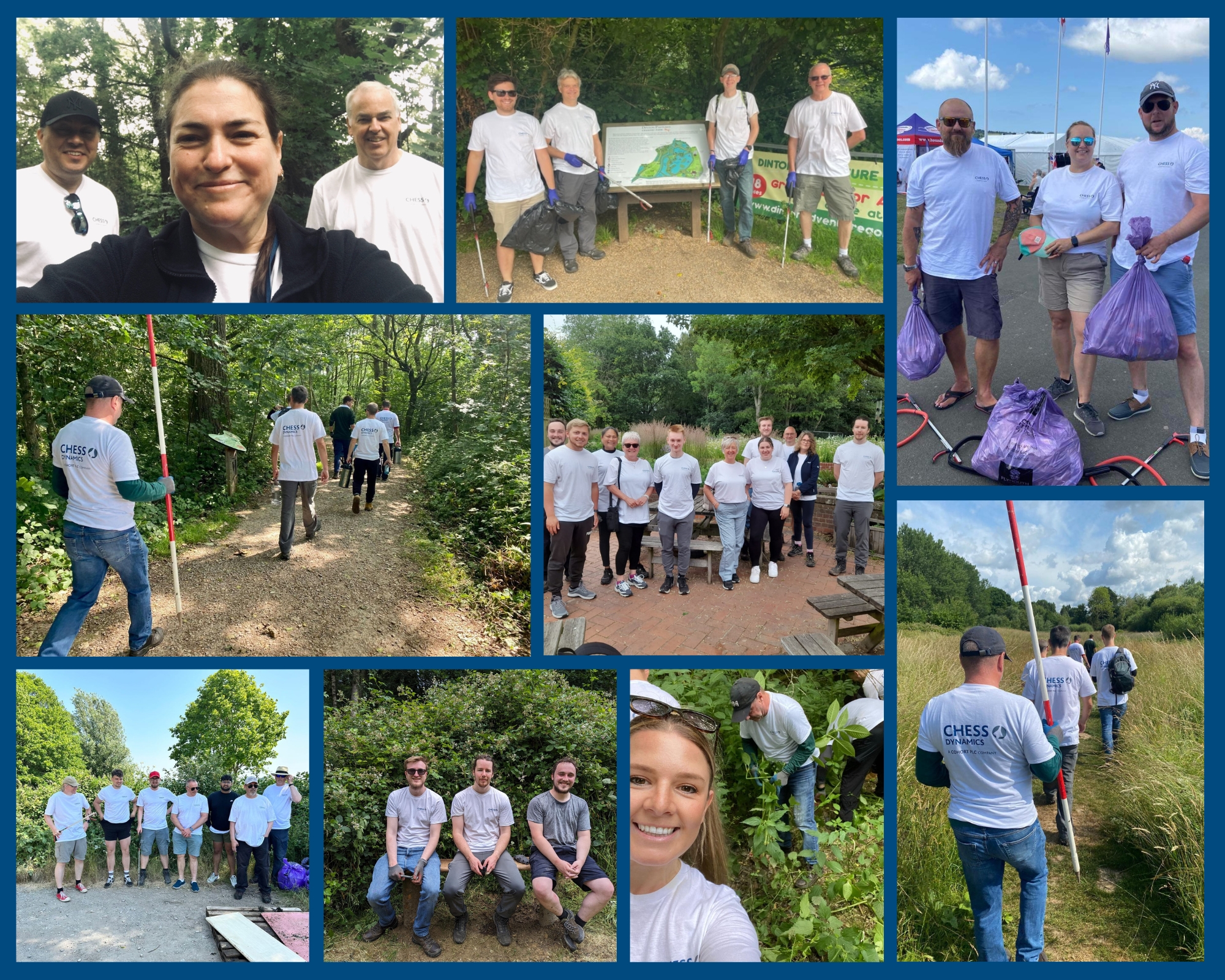 What our people are saying…
Jacqui Peters, International Trade and Compliance Coordinator, shared her thoughts on the day she joined the Horsham group in tackling the Himalayan Balsam at Warnham Nature Reserve.
'I had never taken part in a Volunteer Day before but as I am new to Chess and up for a challenge, I decided to sign up and give it a go!
There were nine people in our group from various areas within the company, so I was able to spend time with people that I have only ever emailed before – it was therefore great to be able to put a face to a name and socialise outside of my department.
Our task was to clear away Himalayan Balsam, an invasive plant that dominates the riverbanks at Warnham Local Nature Reserve and outcompetes native plants and reduces wildlife diversity and that is why they need volunteers on an annual basis, to help to control its spread.
The most effective method of removal is by hand pulling from the roots before it seeds, and my fellow volunteers will attest to the extremely satisfying sound that it makes when snapping it in half – for those of you familiar with the film Legally Blonde, ours was an alternative version of the 'Bend and Snap!'
It was also great working alongside the Warden Team, finding out more about the Reserve and the fantastic work that they do there – they also looked after us very well with biscuits and refreshments.
Will I be volunteering again next year? You bet I will!'
Arron Greenaway, Project Manager, summarised his volunteering experience which took place on 22nd June in Plymouth.
'As a team of four, Dave Ellis, Mark Norman, Verity French and I, met with the 'Clean Our Patch' charity, to clean up the area around the Plymouth Hoe. The weather was perfect and the location beautiful. Whilst we were there, the Royal Marines held their annual Triathlon which was entertaining to watch. Also, the preparations were being made for Armed Forces Day celebrations, which took place on the 24th June.
I thoroughly enjoyed the day. Firstly, I was grateful to have the opportunity to be outdoors and to spend a day giving something back to the community. What was positive, was the engagement we had with the public, who were curious to know more about Chess Dynamics and the reason why we were volunteering to clean up our public areas in the community. Secondly, it was great to spend time with other people within the team, that I would not ordinarily have any engagement with. It was a pleasure getting to know my colleagues, outside of the professional environment.
I thoroughly recommend volunteering and I'm already looking forward to next year.'
Thank you to all our volunteers across the business for your hard work. You are truly remarkable!